| | |
| --- | --- |
| New post on chroniclesofmccloskey | |
Scott Ross is a big dude. Aside from being a tech service engineer for Xylem, traveling the world on water treatment projects, he has a passion for trails. Oftentimes, returning from a trip to some exotic country for work, Scott can be seen out in the woods with his huge axe removing deadfall so that the trails are passable for hikers, and mountain bikers. Scott is a mountain biker himself but his passion is making sure that storms don't keep trails closed due to trees falling and blocking our way.
Scott's sphere of influence is usually in our local park system but he has been known to clear trails as far away as Canada. You can always tell where Scott has been by the remnants of his work……wood chips. These chips are collected by many people for use in their fireplaces, grills, etc. But whenever I see these chips, I know that some serious work has been done to clear a big tree that has blocked the trail in some form or fashion.
As you can see, Scott is a big guy and has all the tools to take some massive deadfall from the trails, all by himself. The county does not allow power tools for removal other than for the county workers who clear the trails for a living. But the county appreciates volunteer work and Scott is probably the most tireless volunteer out there now. Sure, he does it for exercise, but he also has a passion for trail systems and the people who use them. My crowd usually buys Scott a beer whenever we see him because we appreciate the work it takes to clear some pretty large trees that fall during storms. Scott loves riding his mountain bike, loves the trails, and makes sure that they are clear for all of us. But oftentimes, when I come up on a section of trail that Scott has cleared, thoughts come into my head.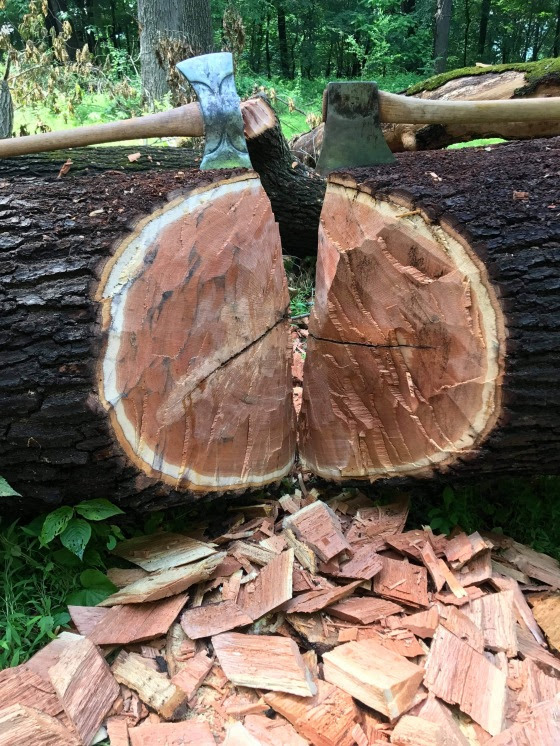 I think to myself, what kind of dedication does it take to do this on a regular basis after traveling and working around the world? You would think that Scott would be exhausted from such a work schedule. But like most volunteers, he has a passion for the cause to which he is so dedicated. I think about the past year and how so many of us have been isolated or forced to keep our volunteer activities in check because of the Pandemic. But, things are opening up now and people and causes need some serious help. We may not be able to take down large heavy trees to benefit the hiking and mountain bike community, but we certainly can help and be there for individuals or organizations that are trying to get back on their feet. People are hurting, restaurants are hurting, volunteer organizations are now opening up opportunities to engage once again. I heard it said once that you don't have to go to a foreign land to volunteer. You have people right in your back yard who need a friend, comfort, food, and shelter, that we can provide- one life at a time. Scott's volunteering is very graphic and public. People know what he does and appreciate his hard work. But there is also a need for many things these days that are not so public. Behind the scenes volunteering is so vital- especially in these days of recovery.
So when you see a nice clean trail- think of Scott. And when you see an opportunity to help someone, or a cause, think about chopping the barriers with your own axe and clearing a path for others. You will feel good like Scott does and the beneficiaries of your kindness and dedicated volunteer work, will appreciate it – like we do when we ride a trail in Scott's wake. Thanks Scott and thanks for reading.
patmccloskey
 | June 28, 2021 at 6:11 pm | Tags: 
Xylem
 | Categories: 
backpacking
, 
Bicycling
, 
Cycling
, 
Exercise
, 
Hiking
, 
Inspiration
, 
Motivation
, 
Mountain Biking
, 
outdoor activities
, 
outdoor sports
, 
Outdoors
, 
trails
, 
Uncategorized
, 
Volunteering
 | URL: 
https://wp.me/p31Q99-1mc
Unsubscribe to no longer receive posts from chroniclesofmccloskey.
Change your email settings at Manage Subscriptions.

Trouble clicking? Copy and paste this URL into your browser: