Janet and I had the opportunity to visit Park City, Utah last week and do some hiking in the spectacular Wasatch range. We generally visit the west during the winter for skiing but decided to augment that with a trip to see Park City in the summer. The town is bustling and the weather is usually downright perfect for walking around and hiking in the neighboring ski resorts like Park City, Deer Valley, and the Canyons. We also took a trip to Sundance which is well worth the drive and the hike up to Stewart Falls was spectacular. We enjoyed that opportunity with our dear friends, the Birsics, who are Park City residents.
Janet likes to hike and we do a lot of that at home. This was a little different in that the hikes are a little more strenuous but she was a trooper as we climbed lots of vertical feet to witness some of the most breathtaking vistas in the Wasatch. As we hiked through aspen groves and wildflower lined hiking trails, we marveled at just how beautiful the mountains are in the summer. Crossing some of the ski slopes, I reminded Janet of where we were and how she had skied them this past winter. She remarked that they looked a lot more steep in the summer. A typical comment for someone viewing ski trails in the off season. We just missed the fall season with the changing leaves but we had a hint of it here and there where a short storm blew in and the leaves began to fall in the chillier stormy wind. We could see the beginning of fall with some of the leaves already starting to turn in what is a rather short season in Utah.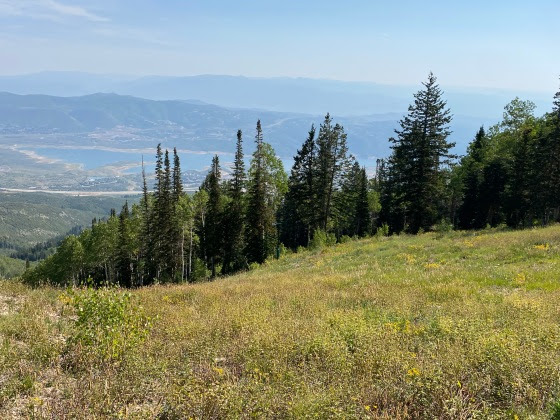 All week the weather was beautiful and we took advantage of great restaurants, shops, and other places of interest in Park City. On Saturday, September the 11th, we visited the McPolin Farm for a little walk on their well maintained hiking paths and our eyes became fixed on the huge American flag that hangs from the iconic white barn that is visible from the highway. People were clamoring to get a photo op in front of the flag and I wondered to myself if they just wanted the photo op or whether they had some sense of patriotism on the day commemorating the tragedy in the twin towers, the Pentagon, and Shanksville. Jan and I had our opportunity for the photo and thought about what President Bush had said that morning. In an eloquent speech from Shanksville, site of the Flight 93 crash, the former President tried to rally all of us to move on from the partisan politics and realize that we are all Americans. Whether you are conservative or liberal in political persuasions, white, black, Latino, native American, or whatever, we are all Americans and should band together to realize that we all are brothers and sisters under this banner of democracy and freedom. The former President said it so well.
As we wound down our week of being in the beautiful mountains, we kept telling ourselves how blessed we were to visit such a great town in a great part of the country. The 9/11 date gave us pause to reflect on how all of us who live in America are blessed to have great opportunities, the chance to help our fellow citizens, and the general feeling of kindness that should be the hallmark of all Americans. We live in a beautiful country and people from all over the world come to visit what we call home. As I looked at that flag one more time, I said a little prayer that all of us come together. Just like we did on that fateful day in 2001. I will never forget that day and neither will all of us who saw the details of that day unfold. We need to appreciate our country, the landscape from " sea to shining sea", and know that we are better than what has transpired in this last year. I look at those mountains and think what a great country we have. Happy to be able to see it and thankful for the opportunity to enjoy it. Thanks for reading.
patmccloskey
 | September 13, 2021 at 5:14 pm | Tags: 
Deer Valley
, 
McPolin Farm
, 
Park City Mountain Resort
, 
President George W Bush
, 
Sundance Resort
 | Categories: 
American Culture
, 
backpacking
, 
Exercise
, 
Hiking
, 
Inspiration
, 
outdoor activities
, 
outdoor sports
, 
Outdoors
, 
Seasons
, 
Skiing
, 
travel
, 
Uncategorized
 | URL: 
https://wp.me/p31Q99-1pm