| | |
| --- | --- |
| | |
Jon Weisberg from http://www.SeniorsSkiing.com suggested that I write a piece for him on how to effectively ski a given area. Interesting topic which can be shared in his magazine and also on my blog here. Kind of kill two birds with one stone so to speak. So here goes.
Let's start with the smaller areas like we have here in Western Pa. and Western New York. Moving from slope to slope or trail to trail regularly can be an effective way to maximize the satisfaction out of an area with a smaller vertical drop. I also try to make as many turns as I can in order to really utilize the terrain. Maybe a ski with a tighter turn radius can be used and often if you combine the tactic of " keep moving" and "make turns", you can see where the best snow is at a smaller area and then focus on lift lines and crowded conditions. My favorite local area has one really good slope- the best slope in Pa. It also has a number of trails and glades as options, but really, I like to lap Wildcat at Laurel Mountain and utilize its steeper terrain to the best of my ability. People ask- " Pat- how can you ski the same slope all day long?" I tell them it is the best slope in Pa. and I change up my lines every run. Skiers left, middle and skiers right always yield a different challenge each run and really you can make the most out of limited terrain if you vary your lines. I mix it up with some selected runs down the trails at Laurel- often taking in great views of the Ligonier Valley. But for the most part, you can see me lapping the Cat each time from a different line.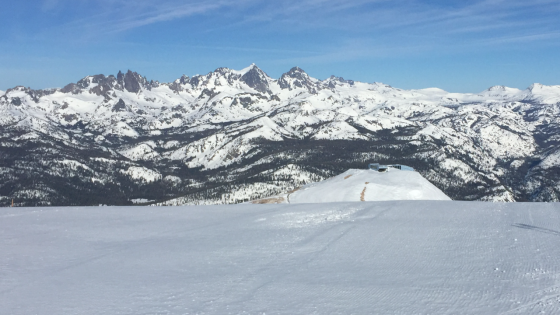 Moving on to larger areas, a number of tactics come into play to effectively ski an area. The first one is to get there early to beat the crowds. This is true everywhere you ski. Oftentimes the best grooming is available in the morning or the morning's best powder stashes can be accessed if you get up early and get to the parking lot and on to the slopes early. Once there, I often follow the sun. Look for where the sun shines first and go there for good visibility. If the slopes are not crowded, feel free to rip some big GS like turns because there is no fear of lots of people impeding your progress. Once the slopes begin to assemble people, those moving targets need to be respected and you can move on to another area which may not be as sunny and perhaps less crowded. I try to avoid the crowds at all costs. At Deer Valley a couple of weeks ago, I noticed that the lifts servicing the black diamond slopes seemed less crowded. The reason is that the entry to those slopes were pretty icy and people tended to avoid another run. For me- that is the green light to keep skiing them. If you can stand a little bit of adverse conditions, you will have a particular run or runs to yourself with no lift lines.
Skiing at lunchtime is another tactic where you see the lines dramatically disappear. Make use of the time and pump in a snack bar or some fruit that you have packed in your parka and wait until later in the day to eat lunch. It is amazing how areas empty at lunchtime and then especially on a Sunday, when people tend to leave for home, you can access a lot of vertical. I remember being in Austria with my friends Mark Singleton and Kenny Griffin. The local lift attendant looked at us quizzically and asked why we were skiing so much at lunchtime? We were supposed to be taking a "siesta" but as Type " A" Americans, we were trying to access the most vertical we could get and take a break from the Euros stepping all over our skis in the lift lines. People want to ski and they want to get by you. Sometimes your skis tended to take a beating. LOL!!
On a powder day- people tend to hunt the fresh lines and leave perfectly good snow behind that is cut up from the masses. I ski with wider skis ( 107 mm under foot) on powder days and no matter how the new powder gets cut up from the crowds, the wider skis just plow through without even a thought. People with narrower skis tend to egg beater and disappear when the smooth, powdery, runs are cut up. But if you have the right equipment, you can continue to ski the cut up lines and avoid lift lines and the rush by the locals for new lines.
Also- don't be afraid to try new areas. It is easy to get into a rut and ski all the same areas on a trip or regularly in your home region. But the more terrain you can access that is different, the more your skiing will improve. I have skied in a lot of different areas in my lifetime and I am glad that I took the time to do so . I get in a little bit of a rut locally but even at that, I try again to mix up the lines, and the runs for maximum use of limited terrain.
When skiing with my wife, I also employ another tactic in that I check the area grooming report. I see where the most recent grooming has occurred and head there. She thanks me for the recon. Lastly- another tactic that can be used is to ski the lower part of the mountain after most of the crowd have moved on to the upper portions of the mountain. People will take a few runs down below and then head up to the rest of the terrain. Oftentimes if you ski the upper part early, you can come back down and the lower half of the mountain is empty. And the best is that- most of it is usually still in the sun on a good day.
Think ahead. Out think the masses and you will have a good day or week navigating the areas the most effectively. Ok Jon? LOL. Thanks for reading.